DISTRICT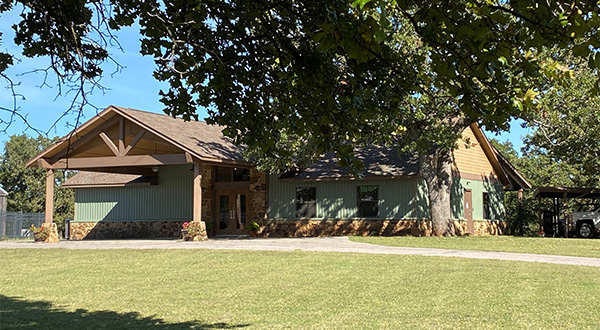 COMCD  Kyle Arthur, General Manager
12500 Alameda Dr.  Norman, OK 73026
Phone: 405-329-5228
Email:  admin@comcd.net
COMCD's Holiday Schedule (District office closed)
New Year's Day
Martin Luther King Jr Day
President's Day
Memorial Day
Independence Day
Labor Day
Veteran's Day
Thanksgiving (Thurs & Fri)
Christmas Day
Board of Directors
The District is governed by a board of seven directors appointed by each city and subject to confirmation by the District Court. Each director serves a four-year term, with two or three directors appointed or reappointed every two years. At each regular monthly meeting, the Board of Directors meet to recommend and review policies, programs and actions for consideration. The General Manager and staff conduct management and administrative duties in accordance with policies established by the board.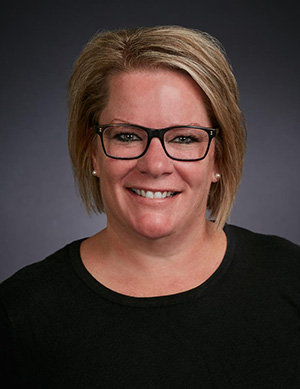 Amanda Nairn, President
Norman
Reappointed 2018
Amanda Nairn has lived in Norman since 1993 and is an active community volunteer. She holds a Bachelor of Arts in Anthropology from the University of Oklahoma and was Assistant Director of Little River Zoo from 1998-2003. She serves as a volunteer with the following organizations: Chair of the City of Norman Environmental Control Advisory Board, member of the Norman Strategic Water Supply Plan Ad Hoc Committee, founding board member of Watershed Restoration Incorporated (WRI, a 501(c)(3) non-profit organization), member of Environmental Education Planning Committee for the Cleveland County Conservation District (partners with Norman Public Schools to conduct environmental education workshops), and board member of the Longfellow Middle School Parent Teacher Association (after serving on the Jefferson Elementary PTA board). Along with her husband, Bob, Amanda received the United Way of Norman Volunteer of the Year Award for Service to Youth/Education for their outdoor classroom and environmental education initiatives at Jefferson Elementary.
---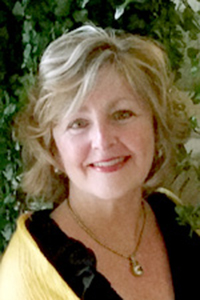 Jann G. Knotts, CPA, CFP®, CFS, Treasurer
Norman, Owner, Financial Journeys
Reappointed in 2020
Jann moved to Norman in 2004 from north Texas. She has an accounting degree from University of North Texas, is a certified public accountant, a certified financial planner and a certified fund specialist. She spent the first eight years of her career in public accounting followed by a long tenure with a bank trust company. She has had her own financial services practice for 18 years.
Locally, Jann is a past president of the Central OK Association of Insurance and Financial Advisors, past president of University Women's Association and an elder at First Presbyterian Church, Norman. During her career she has served on many nonprofit boards.
---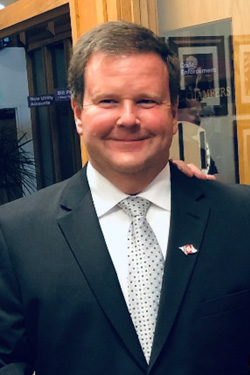 Michael D. Dean, Secretary
Del City, Councilman, Businessman
Appointed 2020
Mr. Dean has been a Councilman for the City of Del City since 2015. He is a Del City business owner. He received a BS degree in Naval Architecture and Marine Engineering as well as an officer commission from the US Coast Guard Academy. In 1993, he was trained and designated a Shipboard Engineer, responsible for all the same type of utilities that a city uses. In 1997, he became a Coast Guard search and rescue helicopter pilot until he returned to Del City in 2005. He continued as a professional pilot for a local medi-flight company until 2013. He has been using the recreational facilities at Thunderbird since 1975. He looks forward to participating on the board with his knowledge and experiences with the Federal Clean Waters Act as well as facility design, procurement, implementation, and operation.
---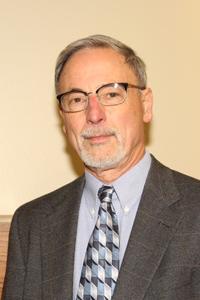 Roger Frech
Norman, Emeritus Professor of  Chemistry & Biochemistry
Reappointed 2018
Mr. Frech retired from the University of Oklahoma as a David Ross Boyd Professor in 2010 after teaching in the Department of Chemistry for 40 years.  He received his B.S. degree from MIT and Ph.D. from the University of Minnesota, both in chemistry.  He and his wife have lived in Norman since 1970 and have one daughter at OU and another at Norman High.
---
Kevin Anders
Midwest City, Technology Consultant
Reappointed 2018
Mr. Anders is Senior Principal at Biz-Werks a technology innovation leader. He holds an MBA from Southern Nazarene University with certifications in Project Management and Mediation. Previously, he was the Global Operations Director for Hewlett Packard focusing on customer service, innovation, and operational efficiency. Prior to HP, he spent 12 years with DecisionOne (Bell Atlantic) in various leadership roles in management, operation, sales, and marketing.  He is the Board President for Lighthouse Oklahoma Charter Academy and is an active member of the Oklahoma City Chapter of Project Management, Inc.
---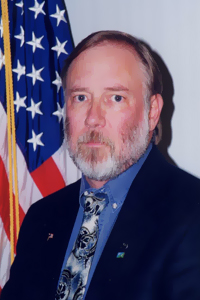 William J. (Bill) Janacek
Midwest City, Director of Environmental Services
Reappointed 2018
Mr. Janacek is responsible for all environmental programs for Midwest City to include water, wastewater, sanitation and stormwater quality.  He received a BS degree in Biology from Central Oklahoma University and is a Registered Professional Environmental Specialist.  He holds Class "A" water & wastewater licenses and is a Certified Water & Wastewater Laboratory Technician and Landfill Manager.
Bill is a member of the Oklahoma Water Environment Association , Oklahoma Water Pollution Control Association, American Water Works Association, Water Environment Association, American Public Works Association and Solid Waste Association of North America.
He received the Administrators Award in 1994 from the Oklahoma Water & Pollution Control Association and was inducted into the Water Environment Federation's Quarter Century Operators Club in 2000.  He was appointed by the Oklahoma Senate Pro-Temp to the Laboratory Services Advisory Council in 1995 and to the Tinker A.F.B. Restoration Advisory Board Community Co-Chair in 1997 and is still active in both organizations.
---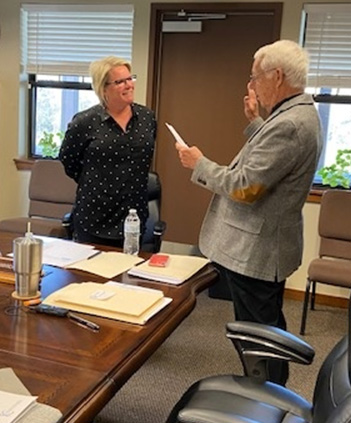 Dave Ballew
Midwest City
Appointed 2022
Mr. Ballew was appointed to serve the unexpired term of Casey Hurt.
Mr. Ballew is an engineer by training and previously worked for AT&T, the University of Oklahoma and most recently was Assistant City Manager of Midwest City.