NORMAN PROJECT FACILITIES AND OPERATION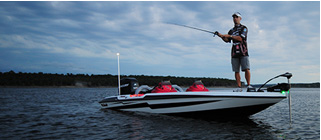 The Norman Project, a Federal Reclamation project, is located at the confluence of Hog Creek and Little River in Cleveland county, Oklahoma about 13 miles east of Norman and about 30 miles southeast of Oklahoma City. The purpose of the project is to provide storage for Municipal and Industrial (M&I) water, flood protection to lands south and east of the project area, and significant recreation benefits.
The Project Report produced by Reclamation estimated that the water supply in Lake Thunderbird would be used in conjunction with the existing groundwater sources to meet the needs of the local municipalities. The Norman Project provides the primary M & I water supply for the cities of Del City, Midwest City and Norman, Oklahoma.